Projects, Workshops and Training
Enviro Solutions Centre works with various groups and individuals to promote and support solutions which can be implemented by everyone with the least expense. We do a wide range of projects, workshops and trainings all focused on promoting practical solutions which benefit people and the planet.
Here you will find just a few of the projects we have been working on. We use Permaculture as a tool and are always keen to learn and share what we know, so if you are keen to get involved in anyway please let us know how we can work together.

Farm Fare

Farm fare is an ESC initiative which bring farm fresh produce to the people of Durban. Working with small scale farmers in the Richmond area of KZN South Afrika, we deliver a variety of locally produced items.
The "Over There Farm" produces organic uncertified cows and goats milk from animals which are raised on grass and natural fodder from the farm. There is also a wide variety of fruits and vegetables produced on the farm but the Graaf family who have owned the farm for the past 20years+. A short film has been made about the farm and its produce. If you would like to enjoy some of this milk with us and live in the Durban area contact Mikal on 084 961 9985 to arrange delivery.
We also source vegetables and other farm produce from various other farms in the area for a complete list of what is available drop us an email at mikal@envirosolutionscentre.com
Permaculture Design Course

In February and December 2012 Mikal Lambert from ESC got to work alongside some of the big names in the South Afrikan Permaculture community to present an internationally recognized 72hour Permaculture Design Course.
In February 2012 the PDC was presented at Thloego Learning Centre in Rustenburg to a group of local community members keen to learn opw they can be part of the solution while improving their lives.
In December 2012 working alongside Permaculture greats Ewald Viljoen (SA) and Aurelia Weints (Egypt) we participated in presenting a Permaculture Design Course hosted by Food and Trees for Africa at Bosco Youth Centre in Johannesburg. As part of the award for the winning schools from the EduPlant competition teaches where treated to a 2 week intensive training in permaculture design.
If you are keen to learn about Permaculture or want to attend a PDC please contact us directly so that we can share the knowledge and inspiration.
Enviro Solutions Centre Gets Community Active

With winter nearing its end its the right time to get into the garden preparing for Spring.
Recently ESC got busy at the Rietvallei Secondary School Food Garden and the 2 home based food gardens of Just One Child Orphanages. With the help of willing hands from all different communities we were able to get these gardens started in just a few hours, seems the old adage "many hands make light work" really is true. We had volunteers from all over Johannesburg pitching in to lend a hand and show their "Ubuntu Spirit"

_______________________________________________________________
ESC & Just One Child

Enviro Solutions Centre and Just One Child have embark on a Food Gardening journey, we have created a local organic food gardens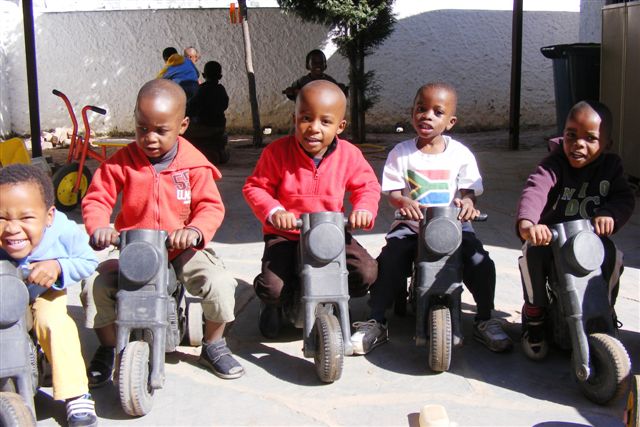 on the premises of the children's home of Just One Child in Wendywood and Rivonia.
The aim of this project is to provide these children, many of whom are currently living with HIV/AIDS as well as mental and emotional handicaps, with high quality locally produced organic food. As these gardens are on the premises these children will have the opportunity to interact with and learn vital skills of growing their own food in the most natural way as possible.
_______________________________________________________________
Food Garden at Rietvallei Secondary School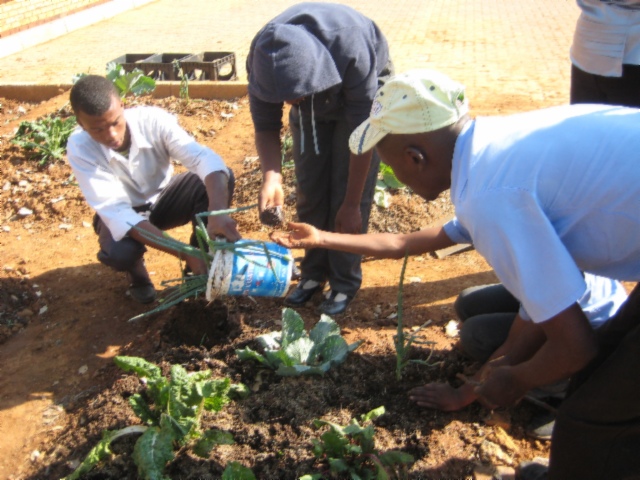 Enviro Solutions Centre & Reitvallei Secondary School have teamed up to initiate an amazing school food gardening project which is going to see the community of Reitvallei getting greener and a lot more environmentally conscious.
Learners at this newly developed school made a request for a food garden as they began to see how sustaining themselves from within the community would alleviate a lot of the financial pressure their parents felt as a result of the ever increasing food prices driven by an oil based consumerist society.

_______________________________________________________________
ESC Volunteers Clear Invasive Alien Plants
ESC staff and volunteers got their hands dirty as they spend the weekend June 4-6 at Emoyeni Retreat Centre on the slops of the Magliesberg clearing one of the world's top ten invasive alien plant species the notorious "Lantana".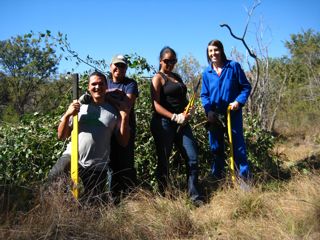 It was by no means an easy task but the natural beauty, vast open landscapes and amazing vegetarian food made it well worth the efforts.
Astrid, Sharlene, Sindy and Mikal had the great pleasure of early morning wake up's for morning meditation in "noble silence" and enjoying natural healthy breakfasts before going off to the front line in the bush to remove Lantana from the veld and restore it to its indigenous glory.
_______________________________________________________________
Food Garden at the Spaza Arts Gallery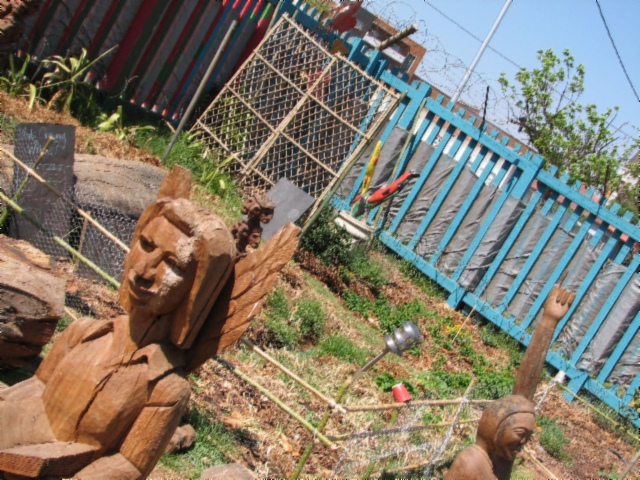 The Spaza Arts Gallery is located in Troyeville at 19 Wilhelmina Street. This community Arts Centre is owned and run by local artist Andrew Lindsay who has kept the Spaza active for the last 8 years.
In 2008 ESC began to cultivate a community food garden at the Spaza Gallery converting what was a construction site rubble dump into an organic food garden which is to this day flourishing and providing amazing organic food.

_______________________________________________________________
Roof Top Gardens
Food securit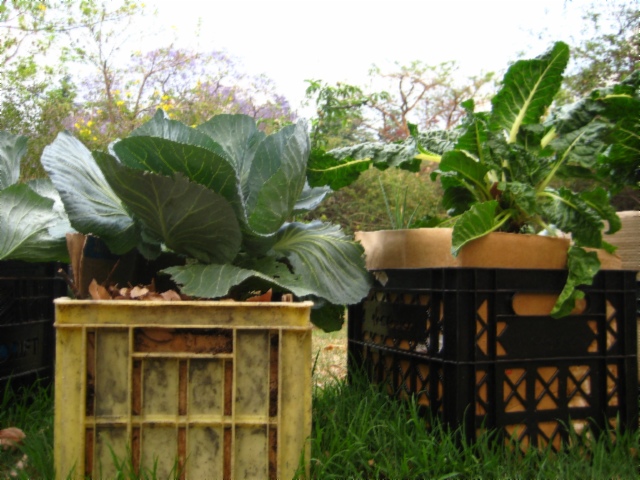 y and our current environmental crisis are major cause for concern locally and internationally. Our current food production system has farms far from the end consumer making our food supply system based on fossil fuel.
In order to get around the ever increasing shortage of fuel we need to move the food production sites into the city, the community park, the church grounds and our very own back yard. ESC has been working on various ideas of how to make roof tops into viable growing spaces using waste items to ensure that these gardens are low cost solutions. So far our best results have been by reclaiming discarded plastic crates lining them with cardboard and then filling them with our home made organic compost. This creates a movable container which has enough root space for growing cabbages, tomatoes, spinach and lettuce.

_______________________________________________________________
Workshop with Green by Design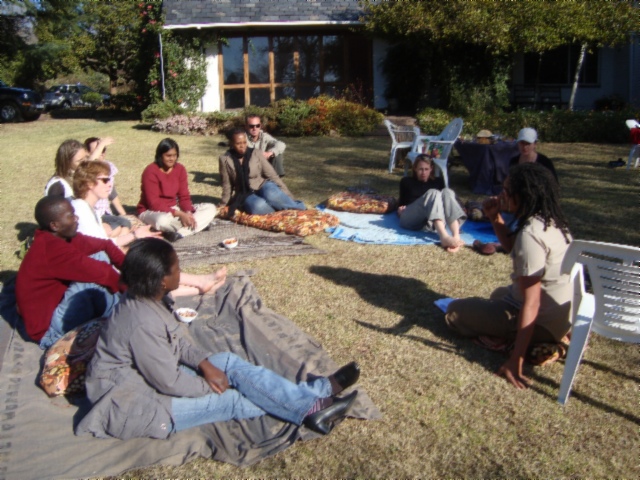 Staff from the WSP office Green By Design in Bryanston had a lesson in the basics of Food Gardening with ESC and learnt some of the guidelines to growing local organic food at the office. This introduction to the basics of food gardening got them ready for the start of greening their offices by starting a food garden. This will allow them to always have fresh greens for salads and sandwiches whenever they want.

_______________________________________________________________